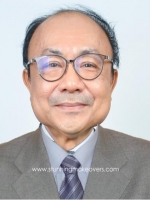 EDUCATION
Doctor of Medicine, Faculty of Medicine, Siriraj Hospital, Mahidol University 1992
Diplomate of the Thai Board of Surgery 1996
Diplomate of the Thai Board of Plastic and Reconstructive Surgery 1999
CREDENTIALS
The Society of Aesthetic Plastic Surgeons of Thailand, 2008 
The Society of Plastic and Reconstructive Surgeons of Thailand, 2006
The Royal College of Surgeons of Thailand, 2004 
PROFESSIONAL EXPERIENCE
Head of Plastic and Reconstruction Surgery Unit, Department of Surgery, Rajavithi Hospital, Department of Medical Services, Ministry of Public Health. 
Present
Clinical Instructor for 3rd & 4th year Medical Students, Faculty of Medicine, RANGSIT University 1999 – Present
Consulting Clinical Instructor of Resident 1st year, Medical Department of Medical Service, Ministry of Public Health 1999 – Present
Invited Speaker on multi-platforms including Scientific Conference, Training Programs, etc. (annually for more than 20 events)  1999- Present
PROFESSIONAL MEMBERSHIP
Medical Council of Thailand  1992
The Royal College of Surgeons of Thailand 
1997
Society of Plastic and Reconstructive Surgeons of Thailand  2001
Society of Aesthetic Plastic Surgeons of Thailand 2002
TESTIMONIALS
Julie S.
from
Melbourne, Australia

Stunning Makeovers had the best client reviews which was why I chose them to make my arrangements.Stunning Makeovers service was excellent and I had great communication with Ann & Paul .
The surgeon was good, nursing and support staff and facilities were excellent.