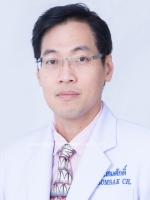 PROCEDURES PERFORMED
HEAD/NECK
Face Lift Surgery
Eyelid Lift Surgery
Nose Implant
Nose Reshaping
Nose Augmentation Using Rib Graft
Chin Advancement and Chin Implant
Mandible Angle Reduction
ARMS
Arm Lift Surgery
UPPER BODY
Breast Augmentation
Breast Lift Surgery
Breast Reconstruction Surgery
Liposuction
LOWER BODY
Tummy Tuck
Buttock Lift Surgery
LEGS
Thigh Lift
EDUCATIONAL BACKGROUND
General Medicine, Songkhlanakarin University, 1993
SPECIALTY TRAINING
General Surgery, Pramongkutklao Hospital, 1998
Plastic Surgery, Pramongkutklao Hospital, 2000
MEMBERSHIP, SPECIALTY BOARDS & FELLOWSHIP
Board of General Surgery
Board of Plastic Surgery
The Society of Plastic and Reconstructive Surgeons of Thailand
The Society of Aesthetic Plastic Surgeons of Thailand
WORK EXPERIENCE
Surat Thani Hospital
Plastic Surgery Department, Pramongkutklao Hospital
Yanhee International Hospital 2004 - present
POST-GRADUATE ATTENDANCE
Plastic Surgery Conference of Thailand, 2004, 2005, 2006
Asian Congress of Plastic Surgery, 2004
Advance Rhinoplasty Course, Boston, Massachusetts, USA, 30 June – 10 July, 2005
TESTIMONIALS
Maureen T
from
Queensland, Australia

I chose Stunning Makeovers to arrange my surgery overseas because Paul was in touch with in a phone call as soon as I emailed. He is very through and easy to talk to and nothing is to much trouble for him.
I am totally satisfied with Stunning Makeovers service. I would recommend Paul's Stunning Makeovers Ltd for organising every thing for you.
The nursing and support staff were all wonderful and the service was exceptional and very happy with the hospital.
I would return for more surgery/dental treatment in the future and will recommend Stunning Makeovers to others because of your great service.
A special thanks to all.


I had a prompt and informative response to my enquiry by Stunning Makeovers which I liked.
My surgeon as good and the quality of nursing staff was excellent.  The hospital facilities was excellent and of top quality.
I am very happy ….. and would return to have a mini face lift on my next procedure and would highly recommend Stunning Makeovers to others.
My thanks to Paul for a great experience. 
Travelling to Thailand with Stunning Makeovers was the best. I appreciate Paul for his personalised and professional way he helped me.

Justeen
from
Hamilton, New Zealand

Comments during Post Surgery Recovery Period – in Thailand
When I started this journey there was a lot of apprehension and a little fear....  What was I worried about?
It has been a great experience, I went for my follow up yesterday and although it wasn't pretty I can see that time will heal and I am happy with the results and so is my surgeon. 
I have been to the dentist and wow great service and care again and the cost (unbelievable).  I have another visit Saturday for whitening and Sunday for my last.  I also have another follow up at the hospital on before I leave for home.  
Evelyn has been great we have been hanging out for the last week and she has been showing me the ropes so next week when I am here on my own I fell quiet comfortable to walk around, catch the train etc...  
Just recently caught up with Bonnie and Ross and went to dinner on the dinner cruise last night which was a lovely night out and before they leave Sunday we going to the night markets Saturday night.   
Comments after Recovery Period
To be honest it was a 2 year journey, once I was told I could not have any more children I wanted to do this trip.  I researched options in NZ and just knew I could not afford the surgery and had been on the waiting list for breast reduction since I was young in my 20's and I am now in my 40's.  
I was never medically in enough pain or complained enough and kept being moved down the list even though I was a Double H.  
I had a look at 4 companies and had asked around ... found your website and read the personal reviews, I wanted reviews written from people in NZ, recent experiences with the company etc...   Liked the comments.  The other factor was the price, very reasonable.  
I have to say the communication through email was very good and I liked the quick reply's and information provided regarding my concerns.  I had been in contact with other agencies at the beginning of this journey and found the communication with Stunning Makeovers was one if not the most efficient of them all.  I always felt heard and there was never a question to much ...especially as I was travelling on my own.  
I have to say I was scared when I got there, being on my own and questioning myself.   I have to say getting there late afternoon and having the consultation the next morning helped me just get on with it.
When I met the surgeon he made me very comfortable and it helped with having his 2 nurses in the room with their knowledge of the English language.
He had a very nice disposition and have to be honest taking off my clothes was confronting.  They made me feel very comfortable and usually I don't like the medical approach but in this situation it helped,  he was interested in the surgery, how he could improve my health and well being
....  Provided examples and pictures of what my breasts are like what he could do,  honest about the outcome, suitable size to go down, the shape and got on with it.     
Through the time at the hospital and post care he was very attentive and caring.  The staff / nurses had very good things to say about him.    
I cannot say enough about the nursing and support staff. Beautiful people, they could not do enough for me,  the respect, the care and support given was more than I expected.
The care was what helped me through from the room service, cleaners, reception , hospital staff and driver excellent.....   Beautiful experience, made me feel safe and looked after....  
The hotel was central and in walking distance of everything I required.....the  room was great, comfortable bed, great service internally and cleaners where lovely.  
The facilities inside the room excellent and well stocked.  Even travelled on the train a few times...
I would recommend Stunning Makeovers to others and I have told a few people whether they take it up,  is another question.....  
I felt safe and looked after, travelling on my own, going through major surgery on my own I was able to inform others that I only felt that way because I knew if anything happened that the Stunning Makeovers was on hand.  Great and thorough itinerary before I left too.  
Justeen, Hamilton, New Zealand 2016. Breast Reduction, Nipple Graft, Tummy Tuck. Dr Somsak, Yanhee Hospital. Stunning Makeovers.

Ms H.D
from
Queensland, Australia

(Also had old implant removed)
Everything is marvelous.. doctors, nurses and hotel and hospital are just wonderful, my operation went really well. I am up and about with my breast drains out and today I may have my tummy ones out tomorrow.
I'm so glad I choose you guys and came to Bangkok there is no way I would have managed and organised a good healing process at home.
The staff here are so lovely and kind. I can't believe they send you home after the opt in Australia???
So pleased. I'm hoping to duck downstairs with a hospital staff member to get an Amazon coffee later today.
Many thanks to all.

Courtney M
from
Northland, New Zealand

I found out about Stunning Makeovers through a friend and choose them to make my arrangements because they were first to reply back to me and sounded the best and cheaper than some.
Very impressed with the surgeon and he knew what he was doing, very happy with results. The nurses were lovely and were very friendly and smiley. The hospital was clean and spacious.
The hotel accommodation standard was 9/10 and very convenient for shopping, food and transport. The quality of food at the hotel was amazing! Especially room service dinner!
The hotel staff were very lovely and friendly people and very respectful.
Stunning Makeovers service was really good and I will possibly return for more treatment/surgery in the future.

Hinewai D
from
Brisbane, Australia

Satisfaction out of 10 --- 11.. was an awesome experience! Thanks!

Malcolm O.
from
Melbourne, Australia

I chose Stunning Makeovers because they did not want surgeons fees up front. I am very satisfied with Stunning Makeovers service and highly recommend Stunning Makeovers
I was impressed with the hospital facilities and everything was positive with my experience with the surgeon.  The nursing and support staff at the hospital were very helpful, especially co ordinator
At this stage I am very happy with the results of surgery. 

Yolanda C.
from
Byron Bay, Australia

I saw Dr Somsak yesterday and had the cast and stitches off and I'm really pleased with the results already!