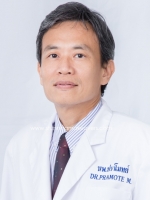 PROCEDURES PERFORMED
HEAD/NECK
Face Lift Surgery
Eyelid Lift Surgery
UPPER BODY
Breast Augmentation
Breast Lift Surgery
Breast Reconstruction Surgery
Liposuction
LOWER BODY
Buttocks Augmentation
Buttock Lift Surgery
EDUCATIONAL BACKGROUND
Doctor of Medicine, Chulalongkorn University, Thailand, 1984
SPECIALTY TRAINING
Plastic Surgery, Sirirat Hospital, Bangkok, Thailand, 1993
MEMBERSHIP, SPECIALTY BOARDS & FELLOWSHIP
Society of Plastic Surgeons of Thailand
Society of Aesthetic Plastic Surgeons of Thailand
Society of Hand Surgeons of Thailand
Society of Reconstructive Microsurgery
INTERNATIONAL TRAINING/SEMINARS ATTENDED
Microsurgery & Orthognathic Surgery, Chung Gung Memorial Hospital, Taiwan, 1992
Craniofacial & Cosmetic Surgery, UCLA Medical Center, USA, 1994
Hand and Microsurgery, Kleinert Hand Center, USA, 1994
Hand and Microsurgery, Singapore General Hospital, 1996
Burns, Peking, China, 1996
Maxillofacial & Prosthesic Surgery, Kantonsspital Basel, Switzerland, 1998
WORK EXPERIENCE
Gangkoi Hospital
Sirirat Hospital
Lerdsin Hospital
Yanhee International Hospital 2002 - present
TESTIMONIALS
Maree W
from
Hamilton New Zealand

My friend recommended Stunning Makeovers to me.  
When I made the initial enquiry, the response to my enquiry was prompt and efficient.  Paul provided me with information.
I would definitely return for a facelift procedure in future.

Lyn C
from
Bay of Plenty,New Zealand

I went with Stunning Makeovers as I was referred by a friend. Their service is excellent and I am satisfied with their service.
My surgeon was a llittle bit 'fast talking' and hard to understand but we got there in the end. The nursing staff was excellent and the service and facilities were also excellent.
I would definitely return for further surgery.  The hospital / service is better than can be offered in New Zealand plus the bonus of a two week holiday as well for less than the cost of surgery alone in New Zealand was very beneficial.
Overall it was a great experience and wouldn't hesitate to recommend to anyone wanting to go for any plastic surgery/reconstruction.

Melanie R
from
Sunshine Coast, Australia

I am absolutely stoked with everything!!! I couldn't be happier……..  The pain was no trouble at all and I have recovered well :) No bruising, little swelling and feeling FANTASTIC!! :)
Thank you for everything

Clare T
from
South Island, New Zealand

I travelled at the time I did because I wanted to be fully recovered by summer.  I went with Stunning Makeovers because their website was easy to follow and their replies were prompt and efficient. I couldn't have got any better service!!!
I found my surgeon to be very polite and spoke fantastic English. The nursing were amazing, courteous and understanding.  All and all the hospital was great and would definitely return to Yanhee.
I will definitely recommend Stunning Makeovers and have told everyone how good the service was.  I would be very surprised if they managed to get better service from another company.
Thanks soooo much Paul for everything.  The whole experience was fantastic and went without a hitch. Your service was great and found it very personal. Will definitely be recommending you guys to anyone interested in plastic surgery.