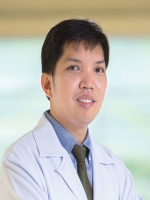 Dr. Pongsatorn is an adept, experienced plastic surgeon with interests in both 
cosmetic 
and reconstructive surgery. He is not only fully certified by the Thai 
Board of General 
Surgery and the Thai Board of Plastic and Reconstructive 
Surgery, but also a highly 
recognized member of Thai Society of Plastic and 
Reconstructive Surgeons, Thai 
Society of Aesthetic Plastic Surgeons as well 
as other medical societies.
Dr. Pongsatorn has successfully performed more than 6,000 cosmetic and reconstructive cases. The results of the micro
surgeries that he has conducted are also widely admired. He is committed to helping people to improve their quality of life
through plastic and reconstructive surgery. All his patients experience self-confident increased after the surgery.
His special interest includes
Facial rejuvenation
Breast surgery
Advanced body contouring surgery
Education Background
1988-1993 Doctor in Medicine with first class honors Faculty of Medicine, Songklha University, Thailand
1993-1998 General Surgery Training,Faculty of Medicine, Prince of Songklha University
1998-2000 
Plastic and Reconstructive Surgery Training Department of Surgery, Siriraj Hospital, 
Mahidol University, Thailand
Professional Experience
2000-2009  Plastic Surgeon, Division of Plastic and Reconstructive Surgery Faculty of Medicine, 
Prince of Songklha University, Thailand
2009-present  Plastic Surgeon, Bangkok Hospital Phuket, Thailand
Affiliations
1994 The Medical Council of Thailand
2002 The Society of Plastic and Reconstructive Surgeons, Thailand
2002 The Society of Aesthetic Plastic Surgeons of Thailand
ISAPS - International Society of Aesthetic Plastic Surgery
Speciallity
Plastic Surgery (Cosmetic Surgery)
TESTIMONIALS

The surgeon was fantastic and the hospital staff were amazing. Like clock-work, they knew exactly what was going on and guided us everywhere with ease. Hospital service was excellent. Same goes with the facilities; excellent, clean, organized and very well looked after.
I will recommend Stunning Makeovers to others. 
I would like to say thank you very much Paul for your service and helping us achieve a successful trip. Really appreciate it greatly.

Cheryl D
from
Adelaide, Australia

My eyelid surgery went well and so far happy with the results. I thought Dr Pongsatorn and his staff were amazing and would be happy to go ahead with surgery in the future if needed.