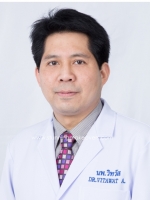 PROCEDURES PERFORMED
HEAD/NECK
Face Lift Surgery
Eyelid Lift Surgery
Nose Implant
Nose Reshaping
Nose Augmentation Using Rib Graft
Chin Advancement and Chin Implant
Mandible Angle Reduction
ARMS
Arm Lift Surgery
UPPER BODY
Breast Augmentation
Breast Reconstruction Surgery
Liposuction
LOWER BODY
Tummy Tuck
Buttock Lift Surgery
Male to Female Sex Reassignment Surgery
Female to Male Sex Reassignment Surgery
LEGS
Thigh Lift
EDUCATIONAL BACKGROUND
General Medicine, Chiangmai University, Thailand, 1994
SPECIALTY TRAINING
General Surgery, Chiangmai Hospital, 1998
Plastic Surgery, Chulalongkorn Hospital, 2001
MEMBERSHIP, SPECIALTY BOARDS & FELLOWSHIP
Royal College of Surgeons of Thailand
Society of Plastic & Reconstructive Surgery of Thailand
Society of Aesthetic Plastic Surgeons of Thailand
Medical Association of Thailand Member
World Society of Anti-aging Medicine (WOSAAM) Member
American Cleft Palate-Craniofacial Association (ACPA) Fellowship
WORK EXPERIENCE
Chief Plastic Surgeon for Cleft Lip & Palate, Thai Red Cross, Uthaithani, Sa Kaeo Province
Consultant Plastic Surgeon, Chiangmai Ram Hospital, McCormic Hospital, Central Chiangmai Memorial Hospital
Professor, Division of Plastic & Reconstructive Surgery, Faculty of Medicine, Chiangmai University
General Surgery Department, Chiangmai Hospital
Plastic Surgery Department, Chulalongkorn Hospital
Yanhee International Hospital
POST-GRADUATE ATTENDANCE
Anti-aging Module 1
7th International Congress of Oriental Aesthetic Plastic Surgery, Seoul, South Korea –2000
9th Congress of Asian-Pacific Association of Laser Medicine and Surgery – 2001
13th Congress of International YAG Laser Society, Pattaya, Thailand – 2002
Training in Microsurgery and Flap Dissection Course, Singapore General Hospital, Singapore -2004
9th International Congress of Oriental Society of Aesthetic Plastic Surgery, Bangkok, Thailand 2004
Special Training in Advances in Rhinoplasty, Chicago, Illinois, USA – 2005
International Workshop on Reconstructive Microsurgery, Taiwan, September 2006
International Conference of Plastic Surgery, Taiwan, September 2006
Course on Endoscopic Maxillofacial Surgery & Minimally Invasive Cosmetic Surgery, Bangkok, Thailand, May 2006
4th International Workshop on Surgical Techniques in Cleft Lip & Palate & Maxillofacial Surgery, Chang Gung Memorial Hospital, Taiwan, September 2006
13th ASEAN Congress of Plastic Surgery & 5th Congress of the
International Society of Simulation Surgery, Chiang Mai, Thailand, October 2006
Advanced Mesotherapy Training Course, Bangkok, Thailand, 2007
1st Eurasian Congress in Aesthetic & Anti-aging Medicine, Bangkok, Thailand, January 2007
4th Bangkok Conference on Anti-aging Medicine, 2007
1st International Master Course on Aging Skin (IMCAS Asia), 2007
International Conference of Anti-aging & Regenerative Medicine, Thailand, 2007
Endoscopic Plastic Surgery Educational Seminars, California, USA, 2007
Live Surgery Course on Gluteal Implants, 2007
2nd Eurasian Congress in Aesthetic & Anti-aging Medicine, January 2008
1st Annual Scientific Meeting of Thai Rhinologic Society, 2008
International Hormone Society Meeting, January 2008
TESTIMONIALS
KP
from
Melbourne, Australia

It's been about a month now and. my eyes are healing well and although still a little puffy I am excited to see the final result. My breast augmentation ….full and a cup size bigger which is exactly what I wanted.
The nurses were very nice and came every time I called. Most of them spoke English which was good.
What I am most pleased about is the liposuction, I have a waist that I have never had before and I am wearing tight tops that I never felt comfortable in previously. I am so happy …..!
Overall I am extremely happy with how everything went and am already planning my nose surgery and tummy tuck for the future back at Yanhee.

Claire H
from
Auckland, New Zealand

Stunning Makeovers was easy to deal with. The website has good information with options and price.
Paul was helpful and his service was great and arrangements were well organised both here and in Thailand.
My surgeon was lovely ….. The nursing staff were great and always checking on me.  I loved the hospital and the way they had all the staff dressed. It was an experience.  The hospital service was good and facilities were clean. The staff were helpful and professional.
I sure would return for more surgery. I have no hesitation recommending Stunning Makeovers for their organisation, helpfulness and price.  The whole deal was very well done.
….the hotel I stayed at was in a good area for checking the city out and a really nice hotel too …...

Shaan E
from
Auckland, New Zealand

The surgeon wasn't very keen to do the Rhinoplasty surgery as he thought it would reduce my breathing even further. 
He referred me to the ENT (Ear Nose and Throat) surgeon who showed me just how bad my septum was.  I decided to go with the septoplasty surgery instead.  If I went with the Rhinoplasty surgery, the ENT surgeon may have been able to use the same incision but she wouldn't have known, until I was on the operating table (unconscious).  I didn't want to take the risk.
Not only can I breathe through both nostrils for the first time in years, but the depressed spot is no longer there and my nose appears straighter!  There was no bruising whatsoever and I was up and about in no time.  I'm keen to see the final result once the swelling has gone completely. 
I was disappointed that I couldn't have my teeth done though. The ENT surgeon told me not to have dental work because they may knock my nose. So I'll need to organise another trip for next year
I was kept well informed by Ms Pla and Mr T was always prompt and just lovely.  The hospital team were great – having the English co-ordinators (Joanne and Ms Pla) were fantastic. 
Both Daisy and I will certainly be re-booking.  I think Mum and Dad are interested in dental work too.

Diana P
from
Tauranga New Zealand

This was a birthday present for myself. I chose Stunning Makeovers because I liked how helpful and fast they were with response to questions etc, plus they were very helpful with ideas of things to do in Thailand.
I am super satisfied with Stunning Makeovers service. I feel like I got everything I could've asked for.
I would recommend anyone thinking of plastic surgery etc to go through Stunning Makeovers and have referred a lot of people to have a look at the website.
My surgeon was lovely, he spoke a bit of English which helped with the consult. He also made me feel very comfortable and helped me choose the right size implants for my body and answered any questions I had.
The nursing and support staff were Awesome Awesome Awesome is all I'll say, I just loved the way nurses were with me through the whole process.
Overall, I'm just so happy with everything. The facilities were very clean, tidy and well maintained.
I felt like I was looked after well in all areas from consult to follow up :) I definitely would go back for more surgery
From my own personal experience I was overall satisfied with everything so think what you guys are doing is awesome.
I would just like to thank you guys in helping me with the experience I had. The surgery has really changed my life and I feel so confident now.

Simone T
from
Melbourne, Australia

We both looked on-line for a company that could give us professional discreet service and answer and queries we had at any given moment. Stunning Makeovers provided both.
Very pleased with the email contact and swift replies to any questions. The detailed itinerary was especially thorough and easy to read.
The surgeon was pleasant and willing to discuss any questions we had. He tended to me every morning and I was overly satisfied with his surgical skills.
The other surgeon was a very nice man that had all the time in the world to sit and answer questions and explain to the best of his knowledge. He was very capable and I felt relaxed and confident that he was the right doctor for my procedures.
He tended to me every morning and questioned me for aches and pains of which I had none. 
On my follow up exam he was very pleased with my results as was I and we left it at that. The support staff were extremely helpful and understanding. They were very nice people who offered information and assistance way beyond our asking. As with the nursing staff, you only had to ask and you weren't kept waiting long at all. They were all genuinely caring and interested in your problems or queries.  
The range of services at the hospital was very impressive. It was quite a large hospital with every service available all under the one roof. This was very refreshing. No running around in cars or travelling from A to B. Just up and down elevators.  
Despite my initial reservations about having surgery in a foreign country, I would probably return for future procedures because the overall results are worth noting. 
The whole experience was one I would never forget and have basically regained a zest for taking care of myself all over again. It is extremely affordable and a culturally diverse experience at the same time. I am already planning and day dreaming about when and where and how.  
I would recommend Stunning Makeovers to others because of the common language shared with Paul and feeling that I'm not as big an idiot as I may sometimes feel. The professionalism is very high and the contact via text messaging was both surprising and welcome. It made me feel like I was being looked out for in a place where I knew absolutely no one. Thank you. 

Sue C
from
Sydney, Australia

I used Stunning Makeovers because my friend did a lot of research in regards to agents etc and she found that Stunning makeovers was the best.
Originally I was not having any surgery done so I left all the research to my friend who was having several procedures done, but after my conversations with Paul McGowan I became more and more impressed with how Paul communicated with us and I decided that I would make enquiries in regards to minor surgery for myself.  
I found that from start to finish Stunning Makeovers was first class e.g. returning all phone calls; nothing was too much trouble for Paul, the choice of Doctors and their history, and the complete organisation of our trip. 
I have travelled extensively so I knew what to expect when I arrived in Thailand, but for someone like my fiend who had never been outside the country, Paul's travel pack was so complete that someone who had never travelled just couldn't go wrong. It was filled with every bit of information that you would require down to how to tip someone and how much.  Well done Paul.
During our stay in Thailand Paul would ring us on a regular basis just to check on us and see if everything was OK.  This service has continued since we have come home with Paul checking on our recovery and if we should have any problems.
Yes I am very satisfied with Stunning Makeovers they are extremely professional and caring, so much so that my friend has decided to become and ambassador for the company.  I cannot praise Stunning Makeovers enough. 
I know that there is a lot of controversy in regards to surgery overseas and the failures that occur even my own doctor was against me going ahead with the surgery, so I decided  that I would not make my decision until I got to check out the doctor , the hospital etc.  And I must say that from beginning to end I felt very safe.  But I would only recommend the process which we undertook, starting from Stunning Makeovers right thru to Phuket International Hospital.
My Doctor was very professional and extremely honest as far as the surgery results. I appreciated his honesty   My history is that I am a 55years old and have had a great number of surgical procedures for ill health over the years and unfortunately I was left with dog ears which is scare tissue on the hips so you look like you have two big humps on your hips not a good look. 
After speaking to Dr Veerawat he assured me that he could get rid of them and not leave me with an extra problem. Dr Veerawat also made it quite clear that I would not have 100% results. He said that my age and that I was a smoker played a huge part with my surgery. Dr Veerawat only guaranteed me 85% result. I'm not sure who needs glasses Dr Veerawat or myself but I look at myself and only see 100% result.       
I am a nurse myself and I must say that the nurses and all the support staff from the office right down to the catering staff were great They actually put a lot of our hospital staff to shame. 
Phuket International Hospital was one of the cleanest hospitals that I have ever attended. Very professional would highly recommend this hospital.
I have no hesitation in returning for more surgery but only going through the channels that I went through – Stunning Makeovers.
Would I most definitely recommend Stunning Makeovers and I already have and will continue to do so.
Paul I would have loved to have met you in person while we were both in Thailand but I do understand that you commitments would not allow that at that time.

Sue C
from
Sydney Australia

Hi Paul 
Just a short note to say many thanks for everything you did to make this trip run so smoothly, I was extremely apprehensive at the beginning and as everything unfolded step by step I came to realise how much work you do to ensure that all is a great success. I can't sing your praises enough.  
……my only wish is that I did it years earlier. I will be writing to h Dr Veerawat personally to thank him. Keep up the good work Paul and if anyone has any queries please do not hesitate in giving them my phone number.
Sorry It has taken so long for me to respond to your email.  Take care and drop me a line sometime, would love to hear from you.


I chose Stunning Makeovers because the price was good and they were quick to respond. I emailed a few other companies but Stunning Makeovers came across as more organized and professional.
All the staff at Yanhee were wonderful and really helpful. I had no trouble with communicating. In addition, the service as well as the nursing and support staff were great. Facilities were good as my hotel room was a perfect size and everything I needed was close by. 
I would return for more surgery/dental treatment. I would recommend Stunning Makeovers to others as they have some of the best surgeons in the world. Everything ran smoothly and the treatment was fantastic with great results.
I am very satisfied with Stunning Makeovers services. 

Claire N.
from
Auckland, New Zealand

Dr Vitawat is a lovely doctor. He is honestly fantastic. 

Sandra B.
from
Mildura Australia

I am surprised at how well I am doing 2 days after surgery. Very little bruising or swelling and no pain relief only for a sore back for some reason maybe the bed.
I am being released from hospital tomorrow, I had a visit from the lovely Mia today she was very impressed with my progress, Thank you for the well organised surgery trip to Thailand . 
My recovery has been remarkable no pain or setbacks. I am seeing the other girls in the group every day and enjoying the catch ups. 
The rest of my stitches come out Monday so I'm looking forward to the end of the procedure.