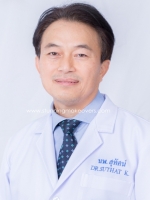 PROCEDURES PERFORMED
HEAD/NECK
Face Lift Surgery
Eyelid Lift Surgery
Nose Implant
Nose Reshaping
Nose Reshape Using Rib Graft
Cheek Implants
Cheekbone Reduction
Chin Advancement and Chin Implant
Mandible Angle Reduction
ARMS
Arm Lift Surgery
UPPER BODY
Breast Augmentation
Breast Lift Surgery
Breast Reconstruction Surgery
Liposuction
LOWER BODY
Tummy Tuck
Buttocks Augmentation
Butt Lift Surgery
LEGS
Thigh Lift
EDUCATIONAL BACKGROUND
Doctor of Medicine, Chiang Mai University, Thailand, 1990
SPECIALTY TRAINING
General Surgery, Ratchavithi Hospital, 1994
Plastic Surgery, Ramathibodi Hospital, 2005
MEMBERSHIP, SPECIALTY BOARDS & FELLOWSHIP
Society of Plastic Surgeons of Thailand
WORK EXPERIENCE
General Surgery
Plastic Surgery, Pyathai Hospital
Yanhee International Hospital
INTERNATIONAL TRAINING
Craniofacial Surgery Observership, Chang Gung Memorial Hospital, Taipei, Taiwan 2007
Surgery Course Gluteal Implant, Thailand, 2007
TESTIMONIALS
xx
from
Auckland, New Zealand

I chose Stunning Makeovers because it is a New Zealand company and were quick to respond to my initial enquiry, use certified surgeons and accredited hospitals.
Thank you Paul for organising everything so well for me and remaining professional. 
I can't believe it's such a short time ago that i was in Thailand. It was pretty much straight back to work for me and sometimes i find myself thinking if was i there at all - but I have a constant reminder that I was!
My experience was very positive. The hospital and my surgeon were great and I especially enjoyed sharing the experience with the other ladies and enjoying Bangkok and the Thailand culture. (group trip)
Thank you for organising everything so well for me.
I would prefer my name to remain confidential.

Stefenie F
from
Townsville, Australia

Just a quick email to let you know I had a ball on my holiday! Thank you so much for organising everything. 
I could not be happier……t and the level of service from not only the hospital staff but the hotel and driver service as well. I will definitely be recommending you to everyone! 
Thanks again.

Christina P
from
Hamilton New Zealand

I heard good things about Stunning Makeovers through a cousin. I am very satisfied with their service.
I would recommend Stunning Makeovers as their service was fine, ……………..

A-M W
from
Auckland New Zealand

The reason I chose Stunning Makeovers was because the initial response I got was very quick and also polite without being pushy.  I had contacted others but they were too "fluffy".  
The prices were also the best I had seen after looking around on the net.  
The follow up to my initial enquiry was good and although at first I did not go ahead with it, I was not 'hounded' like I was by other companies so then when some months down the track when I decided I really did want to go ahead with it I only went back to Stunning Makeovers.  
I also liked the website because it was comprehensive and seemed genuine without trying to hide information like other websites.  
I also liked the current currency converter – again this helped to give quick honest information.  The website again was not "fluffy" like others – meaning it was down to earth which helped make this a realistic experience for me.
I initially had doubts as I did not know who was behind the website, especially if I was to send photos of myself but the emails I exchanged with Paul and his professional and calm (not pushy and over the top) manner helped put me at ease.
I am completely satisfied with the service from Stunning Makeovers.  
Paul McGowan was basically on hand whenever I had an enquiry and believe me I had a lot of enquiries. Even if he was away he would email as soon as he possibly could and would offer an explanation. 
I did get anxious prior to my trip to Thailand and was a little overwhelmed and in my opinion at least, demanding. 
Paul was very calm and helpful and helped me through this with emails and phone conversations and by requesting further information and second opinions from surgeons – even from other hospitals.  
He did not try to push me at all or offer me promises to simply ease the situation or just tell me what I wanted to hear but genuinely offered me honest sound advice and information. 
I felt he was by my side rather than behind me pushing me.  
While in Thailand he was very accessible and again helpful and sincere.  
He arranged for me to meet other 'Kiwis' up there and that was great.  I had the best experience in every way with my trip, surgery and the service from Stunning Makeovers and this has continued weeks and weeks post surgery.
My surgeon was amazing.  He was a quiet sober man who showed me his work on his laptop when I had my consultation. I was amazed!!!  
He did not up-sell and in fact very much the opposite.  I wanted implants with my breast lift but he suggested a lift only as he was convinced he could make them look firm and round (unlike any pictures I had seen on the net by surgeons in the US, prior to my trip).  
He showed me other results he had had with other women and I was thrilled.  He showed me images and the procedure itself in a medical textbook.  My surgery was going to be very long as I was having a lot done.  
I was worried as to whether he could understand me but he understood everything even though he was quiet.  There was something I wanted done and said just in passing and yet he had heard this and did it.  
…… I saved money and I didn't have implants, as I wasn't too sure about how I would feel having them.  And if I do want them someday I can always go back and do so as the cost is so good.  
He would visit each day and would not say much but only that which was necessary.  He would offer me some advice on different things and then be back the next day.  
I have remained in touch with the nurse I had in Thailand. In the ward I was on they have a lot of Filipino nurses who speak perfect English.  They were there in a flash to help me.  
Like I have mentioned I have trained as a nurse and have been in hospital in NZ and they treated me how I would treat patients – incredibly well and with total respect and care. 
They were not like nurses I have personally experienced in NZ where I would fear to ring the bell as they would be too busy and would be in tears due to the stress this would in turn cause me.  
The Thailand nurses would answer my bell immediately. They were more than willing to help and went beyond the call of duty.  My regular nurse even ran home to her apartment in her lunch break to get me something I needed that I didn't have with me at the hospital and required. 
The International Support staff were so warm and helpful and I did have a hiccup with my bank back home and accessing my money and they helped me sort this out with the hospital – with such kindness and care.  
I just want to mention also that I took my laptop and the Internet at the hospital was cheap and very good.  It was wireless so I could sit in my bed and converse on Skype or on Facebook or by email with my family and friends – even my new kitten.  
We had also bought DVD's at MBK mall the day before my surgery and so my daughter and I were able to watch on my laptop, hours and hours of Grays Anatomy and movies that were on at theatres back in NZ – top quality too.  
When my Internet would run out I would simply ring the bell and within a very few minutes it was back on.  
The hospital had a fantastic pharmacy and so I was able to buy some things I needed very easily and cheaper than back home.  The hotel also has two pharmacies downstairs so I bought dressings from there also.  The hospital did give me instructions and a lot of medications to take with me.
My room at the hospital was large and well stocked with soft drinks and water, a roomy bathroom and basic supplies including slippers.  I had a fantastic view over the river and it was much like a hotel room.  I had complete privacy but the nurses would chat to me if I wanted that.  
I lived on McDonalds McFlurries and these would be ordered for me by the staff and then delivered to my bedside – I was thrilled.  I also bought some NZ cheese and crackers from a supermarket at the hotel to take with me, as I didn't think I would be up to eating much.  However the food was good and the room service food was delicious.
I felt well cared for and the week I was in hospital flew by. I really needed that time and care and felt sad leaving.  
My daughter also wants breast implants and we are more than happy for her to do so and especially as I and she knows what to expect. 
I see cosmetic surgery as no different from changing my hair color or style, to having artificial nails or wearing make up and to have it done in a place that is not focused on vanity but more about improvement or enhancement made me feel completely comfortable doing so unlike in NZ where there is a certain stigma and perception that goes with it.  
When going to the surgeon in NZ for a consultation the staff were all dolled up with every bit of cosmetic surgery flashing off them like a neon sign – they were mutton dressed as lamb and very glamorous. This made me feel uncomfortable and like I didn't belong.  
I was not out to look like a Playboy Mansion bunny but just to feel like a beautiful woman without the damage caused to my body through pregnancy of 5 children. 
The experience in Thailand made it feel very natural and down to earth much like going to the dentist or for a haircut – not like I was about to join some elite group off some American Reality TV show. 
It is difficult for me to describe what I mean but I feel that I want to mention that.  
The recovery is a long process and yes it does hurt and a lot of rest is needed and that would be one of the main reasons I would go to Thailand and through Stunning Makeovers again.
I was concerned prior to leaving for Thailand that I was going to be over there for so long when I had so much work to do back home.  I had had a consultation with a very reputable surgeon here in Remuera, Auckland and he had told me I could go back to work a few days later as I work at a computer.  
There is absolutely no way this could have happened due to the pain and the rest that my body required.  To have a week in hospital with a number of people looking after me was just what I needed.  
In NZ I would have been in hospital for one night and sent home the next day with no care.  My partner has his own business and could not have taken care of me.  
My teenage daughter came to Thailand with me and she stayed at the hospital with me also.  She too enjoyed it as she made friends with the nurses and was able to get McDonalds delivered as well as room service (at the hospital) and it was just lovely.  
My daughter also spent a night back at the hotel and I felt totally comfortable with this as it was safe and we were able to call for the driver Paul McGowan uses and for a small cost he picked her up and then dropped her back the next day.  
The staff at the hotel was wonderful to her and through Paul we had met some Kiwis there who also kept an eye out for her.  
Post surgery, a week after and back at the hotel we were able to order room service and go for foot massages, again for such a small cost and just what I needed.  
I also had a massage in the hotel spa the night before surgery and this was total bliss – it took away all my tension, flight stress and anxiety about the next day.  
These are all things I could not have had at my disposal had I been at home.  
We were also able to arrange for Stunning Makeovers driver, Mr T to take us out and about to look at the temples without any stress or hindrance to the way I was feeling.  
With saying this I was able to catch the Sky Train (so close to the hotel) and go out shopping in the air-conditioned malls.  I found that if I drank plenty of water, got lots of sleep and took my pain medication, I was fine and able to do more than I had expected.  
The highlight for me was asking Mr T, your driver to arrange for my daughter and I a dinner at the Vertigo Restaurant – he booked it and drove us there.  
This was total indulgence and luxury and fine dining at its best.  On a rooftop on one of the highest buildings in Bangkok.  I was wearing a dress I had bought months prior but could not fit and new shoes I had bought in Thailand with jewellery and handbag also oh and new make up (all so cheap). 
We were chauffer driven by Mr T and felt like an absolute celebrity.  While sitting up there I had tears in my eyes with disbelief at how wonderful it had all been and where I was at that moment.  
I felt like a new person who literally had the world at her feet – a new beginning.  And to share this with my daughter was the cherry on the top.  
The next day we flew home and my daughter and I were very somber, as we did not want to leave.  I usually get very homesick and miss my fiancé but the time had flown and it was a time that was nothing but truly positive. 
We had bonded with the people and city of Bangkok.  I felt a very real connection, as it was the place that had helped me become this new person…….  
All the people I dealt with including Stunning Makeovers are very real and down to earth.
There is so much I would like to say but all I can really do is summarise with that it was an incredibly positive experience …….. I had time to focus on me and assess other areas of my life and what I want out of my life.  
I got to experience another country and culture, not just the surgery side of it.  I got to experience things that I can't afford back home.
I was well looked after and felt very special.  Any concerns and worries were swiftly dealt with and I was always given open and honest advice and opinions.  
Everything has turned out EXACTLY how I was told – I was not given any false promises and in fact it has all turned out better than I thought.
I can't think of any areas of improvement but I will be in touch if I think of any.
I would highly recommend Stunning Makeovers and have done so already.  I will be using them again and am already beginning to plan my return trip.  


Correction Breast Augmentation and Capsulectomy
The operation went well the surgeon was lovely, made us both feel relaxed and in good hands. Everyone has been wonderful, looking forward to the results.

Maryanne U.
from
Adelaide, Australia

At the moment I'm happy with my results. I won't be able to say about one of my surgeries as it's too soon
The surgeon explained the procedure well and took his time in answering my questions very lovely man . Made you feel very comfortable.
The nursing staff are so lovely nothing is to much trouble.
The hospital was very clean tidy.
Stunning Makeovers drivers were great every time I had an appointment they where on time.
The hotel Stunning Makeovers arranged was great. Location wise can not fault. Great breakfast . Good food. The hotel staff are very accommodating and will help you.

Maryann U.
from
Adelaide, Australia

I'm more then happy with the results.  Thank you for making it easy in a foreign country.  I recommend to everyone  to go through Stunning Makeovers.