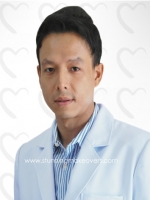 SPECIALTY
Plastic Surgery
EDUCATION
Medical Doctor Faculty of Medicine, Ramathibodi hospital, Mahidol University, Bangkok 1996.
Internship Queen Sawangwattana Memorial hospital, Sriracha, Chonburi, 1996‐1997.
Resident training in General Surgery King Chulalongkorn Memorial Hospital 1999‐2002.
Resident training in Plastic and Reconstructive Surgery King Chulalongkorn Memorial Hospital, 2002‐2004.
Diploma, Thai board of General Surgery 2002.
Diploma, Thai board of Plastic Surgery 2004.
MEMBERSHIP, SPECIALTY BOARDS & FELLOWSHIP
Thailand Medical council
Royal College of Surgeons of Thailand
Society of Plastic and Reconstructive Surgeons of Thailand
Society of Aesthetic Plastic Surgeons of Thailand
Oriental Society of Aesthetic Plastic Surgeons
ISAPS - International Society of Aesthetic Plastic Surgery
INTERNATIONAL TRAINING
Certificate of VASER Liposuction Training (Italy)
INTERESTS
Thai Red Cross Society Cleft Lip and Cleft palate Surgery
Satul Province 2003
Petchabul Province 2003
Maehong Sorn Province 2006
TESTIMONIALS
Brenda R
from
Auckland, New Zealand

Hi Paul,  everything went perfectly with my surgery, hotel and travel arrangements, they all fell into place beautifully so thank you and all your team very very much.
I was very pleased too with all the nursing staff and coordinators and doctors. I had a lovely time at the Hotel and having the shops and trains at my fingers tips just topped it all off. I felt relaxed safe and confident in my surroundings. 
Many thanks, I have no hesitation  in recommending your company to anyone thinking of heading to Thailand for surgery. 
I chose Stunning Makeovers because I liked the idea of not having the stress of organising everything myself and going with a reputable organisation made me feel more confident.
I am very, very satisfied with Stunning Makeovers service. Everything ran perfectly smoothly  - hotel, transport and flights.
At the hospital, I was very well supervised after my surgery and felt safe. My surgeon spoke excellent English as did most of the immediate staff. He had good references and had done many ops like mine.
Nursing and Support staff were all great, helpful and cheerful and would go out of their way to assist as much as possible.
The service was excellent, a top job and the facilities were all lovely, modern and clean.
I would you return for more surgery and am now considering dental treatment for next year.I would recommend Stunning Makeovers to others unreservedly, no hesitation.

Nhi L.
from
Melbourne, Australia

I choose Stunning Makeovers for my tummy tuck because the price was affordable. I am very satisfied with Stunning Makeovers service. I will return for more surgery.
The surgeon was very friendly and understood what was needed. All the nursing and staff are very friendly and helpful. The hospital facilities were excellent.
I am very satisfied with the results of my surgery.
Stunning Makeovers hotel was in a convenient location for shopping, food and transportation.

Jennette H.
from
Christchurch, New Zealand

All going good, no problems and every day gets better. I'm so pleased I chose the right doctor, I'm very happy.