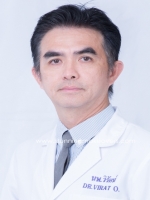 PROCEDURES PERFORMED
HEAD/NECK
Face Lift Surgery
Eyelid Lift Surgery
Upper Lip Lift
Nose Implant
Tip Graft
Alarplasty
Nose Augmentation Using Rib Graft
Cheek Implants
Chin Advancement and Chin Implant
Mandible Angle Reduction
Adam's Apple Shaving
ARMS
Arm Lift Surgery
UPPER BODY
Breast Augmentation
Breast Lift Surgery
Breast Reconstruction Surgery
Liposuction
LOWER BODY
Tummy Tuck
Buttocks Augmentation
LEGS
Thigh Lift
EDUCATIONAL BACKGROUND
Doctor of Medicine, Khon Kaen University, Thailand, 1986
SPECIALTY TRAINING
General Surgery, Srinakarin Hospital, 1990
Plastic & Reconstructive Surgery, Siriraj Hospital, Thailand, 1998
MEMBERSHIP, SPECIALTY BOARDS & FELLOWSHIP
Society of Aesthetic Plastic Surgeons of Thailand
WORK EXPERIENCE
Khon Kaen Hospital
Udor Thani Hospital
Siriraj Hospital
Rayong Hospital
Yanhee International Hospital 2000 - present
 
TESTIMONIALS
Lucy W
from
Wairarapa, New Zealand

It was the spur of the moment and my partner and I had the opportunity to travel with Paul.
The company is in NZ and the price was great.  Paul made it easy...we didn't have to think about anything but what we wanted lol.
Stunning Makeovers service was Excellent! - Thanks for your help Paul.
I had vaginoplasty, breast augmentation and tummy tuck and tubes tied.
The nursing staff were fantastic and looked after me well. Overall the experience was fantastic.  Excellent facilities at the hospital but a lazy boy would have been fantastic for me in the room as the bed was really hard to sleep on while I was recovering (just a suggestion).
There is no question about returning more surgery in future. I will recommend Stunning Makeovers to others for ease, safety and price.