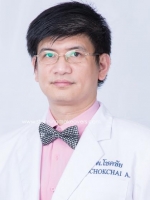 PROCEDURES PERFORMED
HEAD/NECK
Face Lift Surgery
Eyelid Lift Surgery
Nose Reshaping
ARMS
Arm Lift Surgery
UPPER BODY
Breast Augmentation
Breast Lift Surgery
Liposuction
LOWER BODY
Buttocks Augmentation
Buttock Lift
Female to Male Sex Reassignment Surgery
LEGS
Thigh Lift
Education
Doctor of Medicine, Prince Songkla University, 2005
Credentials
The Society of Aesthetic Plastic Surgeons of Thailand, 2008
The Society of Plastic and Reconstructive Surgeons of Thailand, 2006
The Royal College of Surgeons of Thailand, 2004 
International Training and Post-Graduate Courses
Head, Neck, Breast Reconstruction
Royal Melbourne Hospital, Melbourne, Victoria, Australia
Language
TESTIMONIALS
Elizabeth D.
from
Brisbane, Australia

As someone who has never travelled to Asia, much less alone, I felt very well supported with Stunning Makeovers service. It was great. Regular check ins were appreciated. I chose Stunning Makeovers because the testimonials were good, the company appeared to be legitimate and well organised.
All the important stuff was in the travel pack. The attention to detail (such as common phrases, photos of money, how much to tip) was really helpful. I'm totally happy with the service and would definitely recommend Stunning Makeovers to anyone considering plastic surgery. It is still early days but the results of my surgery are looking great so far.
Dr Chokchai was thorough, professional and friendly and I felt very comfortable with him. I had to have a surgical revision for an area that hadn't healed properly, and this was also a simple and well organised experience at no extra cost.
The nursing and support staff were terrific. As good, if not better, than having surgery in Australia. It was great having a private hospital room, and the nursing staff were exceptional.
Yanhee Hospital had all bases covered, right down to letters for the airline to make sure I got the support I needed (in the form of a wheelchair to boarding gate) and medical certificates, pain relief, advice in wound care, etc.
I had 3 visits to Bangkok Smile Clinic for cleaning, whitening and a filling. They were professional, friendly, helped with transport to hotel afterwards.Dental facilities were world class. Attention to detail, right down to having water on ice in the waiting area.
The hotel was great. Clean, great room service, friendly and helpful staff. The in-house movies were appreciated. The peace and quiet was great. I got a lot of work done while recovering from surgery.
The location was terrific for shopping, food and transport They took me to the shopping mall a couple of times, and were very helpful with organising taxis, etc.
Breakfasts were amazing at the hotel and kept me going throughout the day. Lots of variety and a really peaceful atmosphere. With fruit and snacks provided in room and the odd trip at 7-11, I only ordered in on one occasion.
I used the hotel spa twice for massages and they were exceptional. Being a lone female in a strange country, the hotel felt like a safe 'home base' and over the 16 days I got to know some of the staff which was nice. By the end of the trip I felt more confident about wandering further afield and staff couldn't have been more helpful.
I will return for further dental treatment, probably a mid face and neck lift in future.