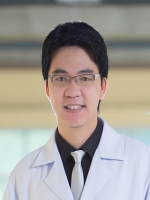 Although Dr Narupon may appear young, he has a lot of surgeries under his belt as a plastic and reconstructive surgeon both for PIAC and a local Government Hospital.
He has been affiliated with Stunning Makeovers since 2011 and is one of the busiest surgeons. Dr Narupon's style is enthusiastic and creative, and he is open to adapt his surgical plan to his client's requests and expectations. He does mostly breast surgeries, but also has a lot of experience in body contouring and face procedures.
A creative and artistic person, Dr Narupon's consultation room is full of photos he has taken during his travels and of former patients. He is a dynamic and upcoming leading Thai plastic surgeon, mentored by Dr Sanguan, who combines his youth and competence to satisfy the needs of his clients. Dr Narupon is particularly liked by younger clients, looking for a surgeonwho can relate to their needs.
His special interest includes
Maxillofacial surgery
Reconstructive microsurgery
Aesthetic facial surgery
Breast Surgery
Body contouring surgery
Education Background
1997-2003 Doctor of Medicine,Siriraj Hospital, Faculty of Medicine, Mahidol University, Thailand
2006-2011 Residency Training in Plastic and Reconstructive surgery, Siriraj Hospital, Faculty of medicine,
Mahidol University, Thailand
Professional Experience
2011-present Plastic Surgeon, Vachira Phuket Hospital, Phuket, Thailand
2011-present Consultant Plastic Surgeon, Phuket International Aesthetic Center, Thailand
2011-present Instructor, School of medicine, Walailak University, Thailand
2012-present Director of Phuket Cosmetic Surgery and Laser Clinic, Phuket, Thailand
International Academic Experience
2010 Observership in Microsurgery, University of Tokyo Hospital, Tokyo, Japan
2011 Observership in Aesthetic & Breast surgery, Texas Medical Center, Texas, US
2011 Certificate of participate of Aesthetic Asia, Singapore
2012 Seoul Rhinoplasty Forum, Seoul, South Korea
2012 Mentor Training Institute Surgery with Anatomic Breast Implant, Guangzhou, China
2013 Beauty through Science, Stockholm, Sweden
2014 European Rhinoplasty Summit, Munich, Germany
ISAPS - International Society of Aesthetic Plastic Surgery
Speciality
Plastic and Reconstructive Surgery