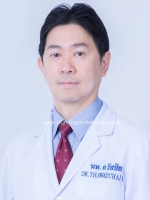 PROCEDURES PERFORMED
HEAD/NECK
Face Lift Surgery
Eyelid Lift Surgery
Nose Implant
Nose Reshaping
Nose Augmentation Using Rib Graft
Cheek Implants
Cheekbone Reduction
Chin Advancement and Chin Implant
Mandible Angle Reduction
Adam's Apple Shaving
ARMS
Arm Lift Surgery
UPPER BODY
Breast Augmentation
Breast Lift Surgery
Breast Reconstruction Surgery
Liposuction
LOWER BODY
Tummy Tuck
Buttock Augmentation
Buttock Lift Surgery
Male to Female Sex Reassignment Surgery
LEGS
Thigh Lift
EDUCATIONAL BACKGROUND
Doctor of Medicine, Chulalongkorn University, Thailand, 1984
SPECIALTY TRAINING
General Surgery, Khon Kaen Hospital, 1996
Plastic Surgery, Chulalongkorn Hospital, 1998
MEMBERSHIP, SPECIALTY BOARDS & FELLOWSHIP
Royal College of Surgeons of Thailand
Fellow of the International College of Surgeons
Society of Plastic & Reconstructive Surgeons of Thailand
ISAPS - International Society of Aesthetic Plastic Surgery
INTERNATIONAL EXPERIENCE AND TRAINING
Christine M. Kleinert Institute, Louisville, Kentucky, U.S.A. 2001
Plastic Surgery Associates, Jackson, Mississippi, U.S.A. 2001
Division of Plastic Surgery, Toronto General Hospital, Toronto, Ontario, Canada
The International Workshop on Reconstructive Microsurgery / Surgical Techniques in Cleft Lip & Palate & Maxillofacial Surgery, Chang Gung Memorial Hospital, Taiwan, September 2006
The 24th Annual Dallas Rhinoplasty Symposium, UT Southwestern Medical Center, Dallas, Texas, U.S.A., March 2007
Live Surgery Course on Gluteal Implants, Bangkok, Thailand, April 2007
IMCAS Asia 2007 International Master Course on Aging Skin, Bangkok, Thailand, July 2007
The Academic Meeting of the Society of Plastic & Reconstructive Surgeons of Thailand, Bangkok, Thailand, July 2007
Live Surgery Workshop on Dissolvable Thread Lift (Happy Lift), Bangkok, Thailand, March 2008
WORK EXPERIENCE
General Surgery, Khon Kaen Hospital, 1996
Plastic Surgery, Chulalongkorn Hospital, 1998
TESTIMONIALS
Ruth Y
from
Taranaki New Zealand

I went on a group trip and found the friendship and support of others in the group totally awesome. Also doing things is a group is so much easier.
Absolutely Fab experience. The culture, the food (wish we could eat spicier), the temples, the SHOPPING - MY GOD!!

James W
from
Brisbane, Australia

I found Stunning Makeovers on the internet and very satisfied with their service.
My arrangements were well organised.  My surgeon was ccompetent and professional and the nursing and support staff were excellent.
The hospital facilities were excellent and service very impressive.  Nice, comfortable private room with everything.  Excellent specialist.
I would return for more surgery and recommend Stunning Makeovers because it is well organised,
Thanks Paul for the follow up. Thanks for organising everything, it was a great trip. 

Ruth P
from
New Plymouth New Zealand

I travelled with my daughter and we both had to be happy with the provider and through Stunning Makeovers, a NZ based company we found this.
The in country transfer service, surgeon, nursing team and hospital facilities were excellent.  
Would suggest Stunning Makeovers to organise more group trips as we found the friendship and support of others totally awesome.  
Also got to do things as a group is so much easier.  
We love the Thai people, their food and culture wonderful.  Only wish is we could handle spicier food.

Felicity C
from
New Plymouth, New Zealand

I took the one of the soonest appointments available, delayed by a couple of weeks so that I could meet my brother in Thailand.
I chose Stunning Makeovers because out of all the companies that I contacted, Stunning Makeovers responded immediately with clear concise advice and maintained contact and support throughout.
I have found that Stunning Makeovers were helpful and supportive throughout.
Both surgeons were pleasant to deal with. I felt they dealt with me honestly and in my best interests.  The nursing staff were very helpful and friendly; 
I would have no problems with coming back if more treatment were required. 
I have no hesitation recommending Stunning Makeovers and I found Stunning Makeovers very supportive. 

Joy T
from
Sydney, Australia

My decision to go with Stunning Makeovers was easy. Paul was so easy to talk to and he understood the decision to have surgery overseas is such a scary one. His knowledge on the surgery procedures they offer was excellent and I felt completely safe and confident I was making the right decision.
I am completely satisfied with the service provided by Paul and Stunning Makeovers. I had my surgery mid May when the Bangkok riots were happening, Paul kept me updated on a daily basis with the situation up there and I came very close to rescheduling my surgery due to the fighting. Paul at Stunning Makeovers had no problem with this and in fact he offered to send me to Phuket instead for the surgery, this was greatly appreciated, thankfully the situation in Bangkok ended and off I went to Bangkok for my operations.
From the initial phone call to Stunning Makeovers to making all of the arrangements for my surgery Paul made the whole process so easy, I highly recommend using Stunning Makeovers.
I had an appointment with my surgeon on arrival at the hospital. My consultation with him revealed I needed to be referred to another surgeon as I needed to have Body Lift surgery due to some previous surgery I had and the scarring prevented me from doing the original surgery I had wanted.
This was not an issue as the Doctors want you to get the best outcome from the surgery they are doing. I can honestly say my experience with the surgeons was fantastic, I was greeted me with a smile which put me at ease straight away. 
As I hadn't even considered a Body Lift prior to this the doctor explained the surgery to me and what results I could expect. He was very honest and was confident we would get a excellent result. We worked out a plan for my surgery he drew a lot of lines on my lower body and then he assured me all would be ok. Fantastic man.
I can assure you the nursing staff is very professional and proficient. They are so lovely and nothing is a problem to them at all. Joanna the International Coordinator and her team were fantastic also, they popped in on a regular basis to check on me and to make sure all was going well. They were lovely and nothing was a problem to them also. Very professional at all times.
The service was excellent at all levels, from arrival to discharge, they are very professional and friendly in all departments.
The hospital is very clean and facilities are equally as good as hospitals in Australia if not better. Absolutely I would not hesitate to go back for further surgery, I will be returning for further procedures in the near future.
I would highly recommend Stunning Makeovers. I have had such a positive experience with Stunning Makeovers I will be recommending them to everyone.
You exceeded all of my expectations. Thank You
I have to mention the service we received at the Ambassador Hotel. From the time of arrival which was at 02:00am in the morning we had exceptional service. The hotel staff went over and beyond our expectations. 
The Customer Service Manager Mr Kangpanich made sure we were comfortable and he made himself and his staff available to us at all times. The room service staff were lovely. We were there for 18 days so when it was time to come home we were quite sad to go. The staff in the Buffet greeted us with a smile every day for breakfast and nothing was to much trouble, fantastic service and staff a true asset to the Ambassador Hotel. 
A wonderful experience. I also have to mention the service provided by Mr T your driver and his staff. They took such wonderful care of myself and my mum who used his service every day. His professional service and kindness was greatly appreciated. Exceptional service. We look forward to seeing all of the staff again hopefully in the near future.

Minette V.
from
Tauranga, New Zealand

Thank you so much!
Thank you for organising everything for me. Was an amazing journey and would do it all over again! I'll definitely refer Stunning Makeovers to anyone who wishes to go to Thailand for surgery.
I am very happy with my result. [of surgery]
I'm extremely happy with how I was treated [by Stunning Makeovers]. I was checked on throughout my journey. Communication skills were very good and if I ever had any worries, I knew they'd be there to help out. I have nothing that I was unhappy about.
I chose Stunning Makeovers as I was referred by a friend with nothing but good reviews. Also, because I didn't know Thailand well and had no clue what the first step would even be for my surgical journey.
It is highly likely I will recommend Stunning Makeovers to others and I will most likely return for more treatment/surgery.
My surgeon was very gentle and answered any questions I had. I felt at ease and he knew what he was doing. The nursing and support staff were lovely. Good to have a laugh with and also very gentle with my recovery.
Mr T [Stunning Makeovers driver] was very reliable and always an hour earlier than expected. The drives were fine and the day I was released from hospital, he was very gentle over the bumps in the road.
The standard of Stunning Makeovers hotel was amazing! We had everything around us! After a week of surgery, I was able to walk not far from the hotel to get anything. The food at the hotel was amazing! and the staff at the hotel were absolutely amazing. Became friends with them and was very sad to leave them. They were the nicest and friendliest people!

Evina H.
from
Melbourne, Australia

I was very early at the hospital so was the first to see the doctor. He recommended for me to have a mid lift and neck lift only and recommended a forehead lift in a few years time.
The operation was at 11.30 and all went well. I have to say that it is a serious intervention, probably more intense than I expected and I am glad that my eyes weren't done as well :)
I looked pretty horrific afterwards, which was to be expected ha,ha…
Overall, I am very happy with the outcome and the surgeon. I thought that he was very careful and gentle.
I would certainly recommend this doctor and the hospital.

Pauline B.
from
Rangiora, New Zealand

Thanks for the gesture of the birthday cake that was a lovely thought 
My recovery is going very well and I'm just blown away by how well I'm doing.
I have hardly had any pain. Giving birth to my 3 boys was more painful than this Lol 
My follow up appointment went really well and the doctor is very happy with my healing. He took off 2 kilos of excess skin and I'm so happy that it's finally gone Lol 
I'm so over the moon with my results they have turned out better than I expected Dr Thawatchai is magnificent.
I'm still taking this easy seeing some sights and resting. I have caught up with Julie (one of the other Stunning Makeover clients) and also had dinner with her last night. So it's great to have someone else to talk about our experiences.
Everyone here at the hotel are amazing very friendly and helpful.
Thank you so much for making my long life dream come true and I will never forget the great experience that I have had on this journey of mine.
You and your staff, especially Ann are fabulous and I will be telling all my friends about this great journey and how well your company has helped in making my dreams come true.
I truly can't thank you enough 

Pauline B.
from
Rangiora, New Zealand

I choose Stunning Makeovers because my friend highly recommended them.
I am extremely satisfied with Stunning Makeovers service. They were so professional and very helpful and would answer all my questions in a quick and efficient time. I have told a lot of my friends about Stunning Makeovers and how happy I have been going through them. I will most definitely return if I plan to have anymore surgeries
My scars are healing better each day. I am so overwhelmed at my results they are so much better than I could ever have expected and I'm very satisfied with Dr Thawatchai's work He's magnificent and I would recommend him to anyone. My friends are so overwhelmed at my results also.
I would just like to thank Ann for all her help in making my dreams come true from day one till coming home she has been amazing and very supportive and nothing was a problem always there to answer my questions.
Thank you so much for making my dream to finally come true I still can't believe it's me.

Pauline B.
from
Rangiora, New Zealand

I'm so happy how well my recovery has been and starting to feel normal again now.
Thanks so much for your wonderful help before and even after surgery it's been reassuring that you are there to help us for when we are home again.
I have had so many great compliments since returning home from Bangkok 
I will be recommending Stunning Makeovers to everyone.

Luke B.
from
Auckland, New Zealand

I'm just so glad that I went through Stunning Makeovers, you have been such a help every step of the way.
I'm really impressed and it's amazing to get the same high quality level of service received that Melissa did 4 years ago. 
The trip is going well, just like clockwork. Everything that you arranged has worked out just as the itinerary said it would. Bangkok has been very nice, the service from all facilities has been great. The surgery went well and I'm just resting and recovering. Can't wait to see the result and what Dr Thawatchai managed to do. 
I can see why your clients often return. I'm already thinking what I might do next haha. 

Luke B.
from
Auckland, New Zealand

Healing is going well, its amazing its been just over a month already. Feedback from friends and family has been excellent as to how natural it looks. I still cant make a final judgement on the result at this stage as it takes 6 months to a year for all swelling to resolve and the true final form to show through. But I can say at this stage so far so good. 
Also I would just like to comment how excellent Stunning Makeovers has been during the whole process, pre care and post care has been phenomenal just as before with my wifes surgery, I wouldn't hesitate to recommend Stunning Makeovers to others, or go through Stunning Makeovers myself again. 

Fergal B.
from
NSW, Australia

I believe Stunning Makeovers service both before, during after my operation has been highly professional and extremely patient focused.
I was the one who selected Dr Thawatchai at Yanhee hospital, and he agreed to see me and operate the day after I arrived on January 2 which was appreciated. The overall service from the hospital was also excellent.